Water Connection Services
Every property requires a secure water connection to ensure a ready supply of safe drinking water. However, installing them effectively can be an overwhelmingly complex undertaking, so getting expert help and advice is of the utmost importance.
From new water mains connections and existing water disconnections to the relocation and upgrade of existing water connections, whether you're a business or homeowner, we've got it covered. And it doesn't matter where you're located in the UK either, we've got the experts on hand to deliver you a bespoke water solution wherever you are.
We can handle everything from start to finish, from adding a new water main to communicating with the relevant authorities. Combined with our competitive prices and prompt service, we can be your one-stop shop for all your water connection needs.
Call now to speak with one of our Water Connection experts on 0330 013 0419, who will be able to assist you and answer any of your questions.
From start to finish, we can oversee every aspect of installing a new water connection including:
New water service and mains connections
Disconnect existing water services and mains
Replacement of lead services
Relocate or alter existing water services
Temporary builders supply
Divert any existing service or mains
Large diameter meters for 25mm and above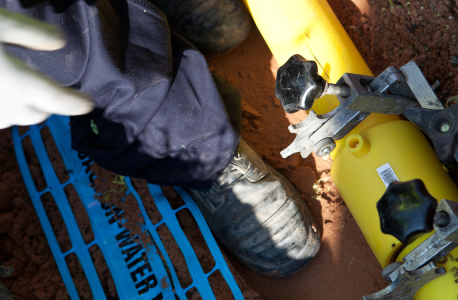 Expertise in coordinating water connections
Our in-depth knowledge of the UK's energy and utility market allows us to easily coordinate the implementation of water supply solutions you need with minimal fuss.
Our primary aim is to guarantee as little disruption to your premises as possible. With that in mind, you will be given your very own Account Manager to ensure one single point of contact throughout. That way, the whole process can remain simple, without the need to contact multiple parties.
Our service doesn't just stop there
If you're looking for a utility connections or disconnections at your premises, our all-inclusive service comprises an optional provision or any or all utility supply contracts to suit your needs, requirements and budget.
If you're interested in our water connection services and would like to learn more. Please call now to speak with one of our water connection experts on 0330 013 0419.
We are a fully approved member of the Lloyds Water Industry Registration Scheme (WIRS)